The power of Lola Aurelia's love in a single image on FB - Technology -
Repost
GMA News Online - Latest Philippine News: "AM MARZOÑA, GMA News
11/22/2011 | 07:14 PM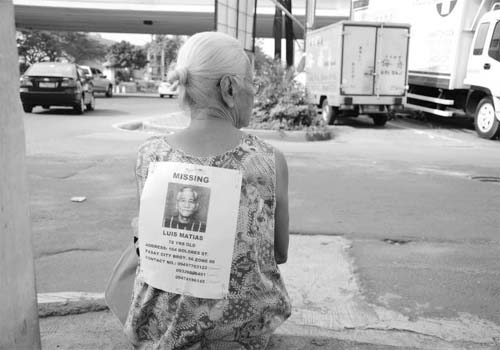 (Updated 7:59 p.m.) Images have the power to provoke thoughts, elicit emotions, and inspire actions, as what happened when undying love evokes the power to search for a missing loved one.
A single image can do all these and more — especially amplified through social media.
A viral black and white photo of an old woman waiting on the sidewalk and wearing a missing person printout pinned to the back of her dress led to a heart-warming reunion between Lola Aurelia Matias and her husband Lolo Luis late Tuesday, after the photo was shared over 53,760 times on the social network Facebook.
Lolo Luis, 78, had been missing for two weeks."
R

ead Full Story
What a great effort na ginawa ni lola. Ika nga until death we as part. According to TV Patrol ay natagpuan na daw si lolo. That is true love. God bless lola & lolo.